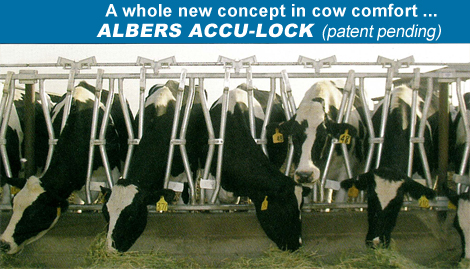 17" standard cow-entry opening - so it's always in "large entry" mode! COMFORTABLE!! Note the double pivot bars which allow your cows comfortable lunge space forward, left and right!
We all know that time is money! A
lock-up that is easier to enter, creating
a quicker and more positive lock-up,
will provide more cow comfort.
Your cow spends most of her time
in the headlock eating in the feed position.
ALBERS ACCU-LOCK (patent
pending) moves with her as she feeds.
Both sides pivot, creating easier cow
movement, meaning more comfort,
which means more feed intake, which
will produce more milk - which means
more $$$!!!
At any time, but especially when prices are low, this lock-up can make the difference!