Albers Manure Handling Systems, Inc.
Stay current with environmental regulations!
For design assistance to meet your needs,
contact ALBERS Manure Handling Systems, Inc.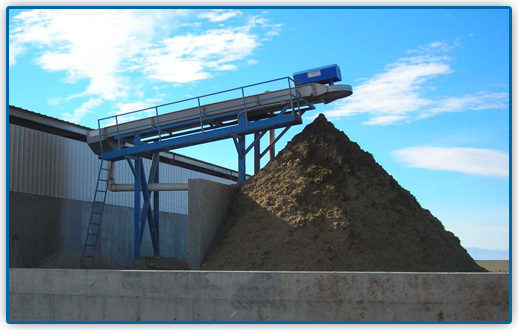 The DH manure separator by Albers Manure Handling Systems, Inc.
For efficient manure handling on both small and large dairy operations.
Reduce odors - Recycle Water - All stainless steel construction.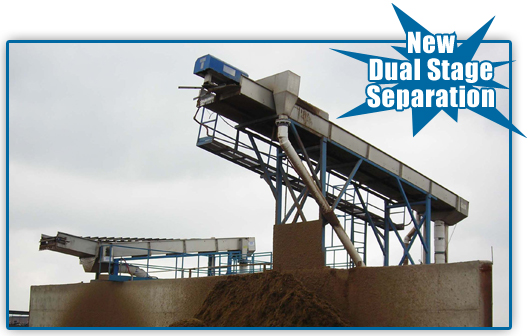 Mission Accomplished!


Now receive maximum solids removal with Albers "dual"-stage manure
separators. Combining Albers proven DH separator with Albers "new"
Stage II separator now provides dairymen with very efficient, simple, and cost-effective manure systems that provide maximum solids removal.
Call Kirk Hartzell, Sales Manager, Manure Handling
509-276-4076
Many of the problems associated with the handling and the storage of animal slurry containing a high proportion of the solid material can be overcome by mechanical separation. The products of separation are an easily handled solid and readily pumped liquid. The output of liquid and fiber, together with the dry matter content of both fractions, depends on the dry matter content of the raw slurry delivered to the separator, however, trials carried out have shown that separation provides about 25% solids and 75% liquid from raw dairy manure and about 20% solids and 80% liquid from pig slurry. The liquid and fiber each contain similar quantities of N, P205, and K20 on a per unit weight basis as the unseparated slurry but, since separation yields 2-1/2 to 4 times as much liquid as fiber, most of the plant nutrients are in the liquid. Separation can be used as a first stage in a biological treatment system.
Anaerobic decomposition of solids from animal waste produces methane gas, carbon dioxide and hydrogen sulfide gas, just to name a few. This produces odor. By separating the solids out, you lower the decomposition process a lot, thus helping reduce odor. By separating, you have taken out some of the N, P, & K that are held up in the solids. Separating lowers the BOD (Biochemical Oxygen Demand) for the lagoon. With well water introduced into the system through the barn water and from the waterfall action over our separator, this will help the oxygen level in your lagoon. So with good separation and with some aeration or circulation you have created an aerobic lagoon, which helps eliminate odor. Through aerobic action, the level of nitrates and ammonia remain low because aerobic bacteria do not produce ammonia or nitrates. Instead they tie up the nitrogen in their body proteins. We have created a stable liquid with low BOD's by mechanical separation, circulation and using the natural power of oxygen and sunlight.
A FEW ADVANTAGES OF SEPARATION
Liquid After Separation:
Is readily pumped and suitable for irrigation equipment
Your storage facility will not crust over and is a valuable source of plant nutrients.
Occupies a smaller storage volume, which increases existing storage, capacity.
May be controlled effectively during application.
When applied, does not cause smothering of the grass sward or cropping of the soil.
Can be applied with soil injection equipment without any plugging problems.
In flush systems can be recycled.
Prolongs life of new and existing lagoons.
Solids After Separation:
Are easily stacked and remain stable when stored.
Most of the time can be composted and give a useful supply of humus.
In a lot of cases dairymen will use for bedding.
Can be transported to distant areas and sold to landscape and topsoil people, etc.
Other Advantages:
Reduce odor and improve sanitation and appearance, plus neighbor friendly.
In some cases can help obtain permits for manure disposal and in a manure management plan.
Can minimize energy cost in waste handling and cost of hauling wastes.
Helps in the control of flies, rats and other vermin.
In some uses it will automate your liquid manure handling system.
ALBERS D-H MANURE SEPARATOR
Has been on the market and in service for many years
Very low maintenance
Low horsepower
Four sizes to choose from to accommodate both large and small operations
Four standard screen sizes and two optional screen sizes to accommodate all the different
consistencies of manure and different dairymen's needs and wants.

In screen sizing the biggest percentage of dairymen want to keep as many solids out of the
lagoon as possible.
When screen sizing is done the customer should be made aware of the fact that capacity of
the separator will change depending on screen size and percent of open area of the different
sizes of screen.
Screen sizing is done based on whether the customer has flushed or scraped manure, on his
bedding type and feed ration, and on the customer's needs and expectations.

We at Albers stress to remove as many solids as possible.

Some separators on the market only remove 12% to 18% of the total solids.
Solid removal from reception pit to lagoon can change also, not only on screen size and type
of separator, but also on the total system design and pump sizing.
Normally speaking, in a freestall operation with manure being scraped with an average
amount of barn water added you'll reduce volume by 23 to 27 percent. This of course means
you will increase your lagoon storage volume by an average of 25%.

The solids off the separator

Normally we like to see a product of 65% to 75% moisture.
The more liquid in the slurry, the dryer the solids.
The more dry hay feed, the dryer the solids.
In flushed manure, the cleaner the flush water, the dryer the solids.
With most separators, the more correct flow to the separator, the dryer the solids.
If the separator is maintained properly and is cleaned properly, the dryer the solids.
The more even the consistency of slurry to the separator, the dryer the solids.
Normally the fresher the manure, the dryer the solids.
Separators on the market today
As with all equipment, there are advantages and disadvantages.
Not all separators will work in every dairy operation effectively.
Albers D·H Manure Separator will work in all dairy applications effectively and efficiently because we size the screen and separator to each application to the customer's needs.
System Design is as important a factor as there is in a manure system
System design can make a separator system work or not work with most separators.
System design is an important factor with the Albers Separator by the simplicity of our machine,
which as you can see will make ours work in any dairy operation. System design will add to the
efficiency of our unit and will help reduce operational costs if the system is designed right.
System design has everything to do with the cost effectiveness of the dairyman's manure system.
We at Albers Manure Handling Systems, Inc. stress a good system design and we work closely
with the customer, NRCS, EPA or whoever might be involved in a manure management plan for
the customer.
Home Page • Locations / Contact